Pancake Day vs Valentines Day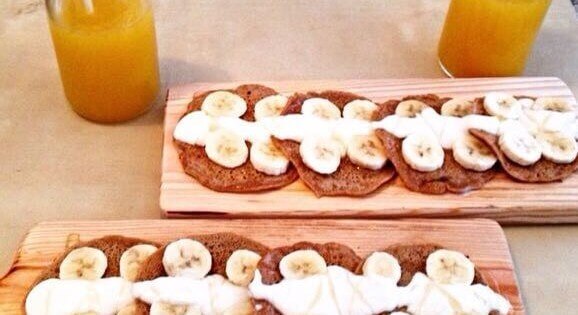 As today is pancake day and tomorrow is valentines day and you all know I love a good challenge so here it is for you.
Which day do you prefer?
I love a good pancake and most Sundays that's what I make Laura and Monty for breakfast, we vary the toppings and style of pancake, my favourite is American Style with maple syrup on them, of normal with peanut butter on them.
Monty prefers either peanut butter or yogurt depending on his mood. Which as an 18 month old changes by the hour!
Laura varies between maple syrup or yogurt and fruit.
I'd love to know your favourite type of pancake and topping.
Or are you a romantic at heart and love Valentines day - going out for a meal, having chocolate and treats?
It might not be romantic but for those of you that are competitive couples or want to challenge your friend, have a good at this.
TRX Pendulum Swings - how many can you do in 1 minute?
You'll need to keep you core engaged throughout the movement, body nice and straight and control the action as you swing your legs side to side.
Let me know how you get on and you can post the videos and results on our Facebook Page. 
Thanks
Gemma 'thinking about peanut butter pancakes' Spackman
PS. Our How To Improve Your Running Workshop at the end of the month has now SOLD OUT. If you'd still like to join us drop me a message an I'll add you to our waiting list.