Why did you get into running and obstacle course racing?
We're half way through the year now and it got me thinking about why I train and exercise and what I'm training for now.
Previously all of my training was building towards races and focusing on different obstacles that would appear on a course.
A lot of my training during lockdown has shifted my focus to injury recovery, which I was doing a great job at until last week when I think I might have over done a bit too much DIY and felt my shoulder tweak again. So I'm back to having a trigger point ball in my neck to try and release it.
But all of this style of training has highlighted how much I miss training for an obstacle race and having a target to complete.
This week at the studio I've had a brand new custom built rig fitted in the studio which is going to be a great addition for when we open again and for those of you wanting to perfect your obstacle technique. It has your standard monkey bars, and then for more intermediate level a skull valley and for the advanced a twister which you'll find on a Spartan Race.
Not only that we also have loads of attachments to practise rig work on, including rings, nun chucks, ropes and gibbons, perfect if you're wanting to improve your technique.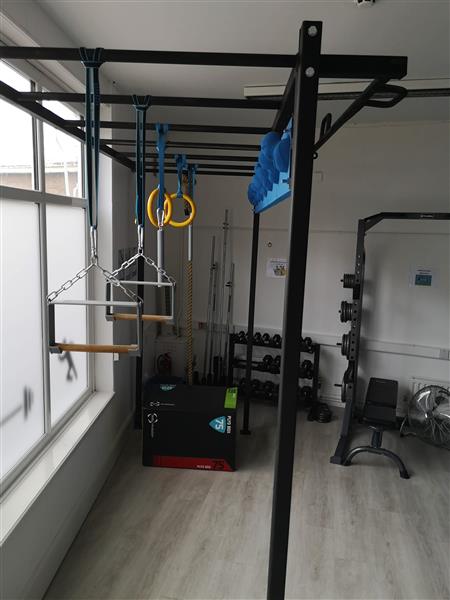 I can't wait to implement these into my training. Part of the reason I got into obstacle course racing was the challenge. I'm not a fan of distance running and after I injured my back I'm limited to the distances I can run comfortably without being in too much pain for the week after. This is where OCR is perfect because I'm only running for 100 – 200m before there is an obstacle to take on.
I've learnt to live with my back injury, I know it is not going to go away, it's just a question of managing it so I can exercise and race as I want to. This is probably part of the reason my back and shoulder have been more niggly these last couple of weeks because I have neglected my exercises because of the DIY around the house. But the house now looks great after having the extra free time on my hands.
Keep me updated on what if any races you've got booked for the latter half of this year and let me know what goals you're training for.