Here's a Great Energy Boosting Snack
How many of you have tried the TRX Plank challenge? If you've kept an eye on our Facebook Page you'll have noticed the guys working with me have been up to the challenge this week. Topping the leaderboard at the moment is Trudi with a massive 1min32sec, she's that determined to beat her own score she is going to be joining us on the 6 Week Blast Programme.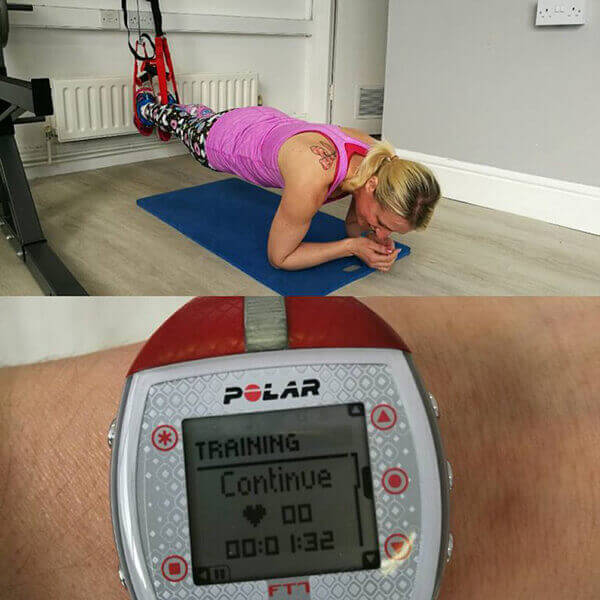 Do you want to see if you can join our leaderboard?
Send us your picture and post it on our page.
This week I have got a treat for you.
I have a client who makes delicious energy flapjacks. He knows I need them on a Friday afternoon when I'm on countdown for the weekend and need the extra boost of energy.
I have found this recipe for you to try from BBC Good Food for Feelgood Flapjacks.
These are the ingredients:
50g butter, plus a little extra for greasing
2 tbsp smooth peanut butter
3 tbsp honey or maple syrup
2 ripe banana, mashed
1 apple, peeled and grated
250g Rolled Oats
85g dried apricot, chopped
100g raisin
85g mixed seed (we used pumpkin and sunflower)
Here is the method:
1.Heat oven to 160C/140C fan/gas 3. Grease and line a 20cm square tin with baking parchment. Heat the butter, peanut butter and honey or maple syrup in a small pan until melted. Add the mashed banana, apple and 100ml hot water, and mix to combine.
2.Tip the oats, the dried fruit and the seeds into a large bowl. Pour in the combined banana and apple and stir until everything is coated by the wet mixture. Tip into the cake tin and level the surface. Bake for 55 mins until golden. Leave to cool in the tin. Cut into 12 pieces to serve or store in an airtight container in the fridge. They will keep for up to 3 days.
These would be perfect for you to have pre and post race for that energy kick you may need.
Gemma 'practising plank' Spackman
PS. Spaces are filling up on our 6 Week Blast Programme now, remember we run on various days and times so if you want to come and join us reply to this email and we'll have a chat.