Top Marathon Tips
With the weather finally getting nicer it's heading into busy race season. Clients are racing most weekends now, the weekend just gone saw Cheryl take on her first OCR of the year at Reaper. She's worked hard over the winter in our Blast Programme to make sure her shoulder has recovered and her injuries from last year are well and truly behind her.
This coming weekend Fiona takes on The London Marathon. She has been following our How To Improve Your Running Online Training Programme (she's lives down south) on top of carefully managing her running and steadily upping her mileage over the last few months.
She's faced plenty of challenges in the preparation of The London Marathon, including painful knees, tight glutes (the usual issues that crop up as running increases), working out which clothes are going to cause no chaffing and her best friend has become the foam roller, trigger point ball and her local Physio and Massage Therapist. Even after training through the harsh winter and spring we've had of wind, rain, snow and ice, the blazing heat from the weekend run now has her hoping the 'giant ball of fire in the sky' doesn't make an appearance on race day.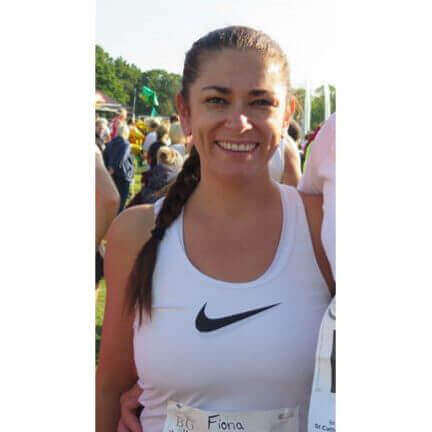 This is part of Fiona's story "I never thought I would run a half marathon, let alone a full marathon. Moving to Barns Green and helping with the local half changed that. So having run the half, and finding it difficult, then why not enter a full marathon?
There is no doubt this will be a tough challenge. I hope that by taking it, I will send my children a positive message that anything is possible!"
A major tip that Fiona had is, "Even if you think your glutes work fine, do more strengthening exercises. There doesn't seem to be any long distance runner saying their glutes are too strong, but many who get injuries at different parts of their legs and it's all glute related."
She found that her mid training cycle was the toughest - "I needed to be mentally strong. The weather was awful, recovering from terrible cold virus and started with injury niggles. Would have been easy to give up. I gave everything a go to keep pushing on. So find something that works for you, try acupuncture, sports massage etc."
When it comes to times and completing the marathon "Everyone asks me what time I want to do it in... I have an idea BUT I have never run a marathon so it's really hard to say for sure. Plus all training has been in cold weather. The heat wave is set for the weekend end. In order to make sure I finish, I will need to slow my pace. So to finish is the aim!
I'm also hoping I can get some sleep this week, between nerves and a new puppy it's going to be a challenge, - Don't buy a puppy just before the big day!"
Good luck Fiona and to everybody taking on their events this weekend.
Gemma 'watching the marathon on TV' Spackman
PS. What's your biggest fear when it comes to race day, is it the sun and heat like Fiona?
PPS. What positive messages do you send out when you race?