My Weekend at The Obstacle Course Racing World Championships
I'm sure most of you in the Obstacle Racing scene will have over the last few weeks been hearing non stop about the Obstacle Course Racing World Championships.
If you haven't and wonder what it is all about, it's an amazing event where countries from all over the world come together to celebrate and test themselves amongst some of the great OCR athletes out there.
There are a number of different events you can enter from 3k, 15k, team, journeyman and the open races. Each event special in their own right, and just as challenging. We were lucky enough this year to have them hosted at Nuclear Races near London, so with them being on home soil (or lots of mud) me and Cheryl decided we were up for the adventure and entered the Open race.
The weather was shocking for the weekend, so much rain meant the course was even harder. The obstacles, were cold, wet, very muddy and not a patch of grass was left to be seen on the course. However it was so much fun and great to see where we could put ourselves on a world stage.
As we got ready on the start line the excitement and nerves were building but we were so happy to be there. Both of us having suffered injury worries leading up to the event. We started off in the mud pits, which was great although energy sapping as the mud was so thick and slippery. The standard obstacles you'd see on a course were fantastic, and I was really looking forward to some of the bigger Force5 rigs and obstacles we don't tend to see over here in the UK.
They were tough and I had a great sense of determination to master as much as I could. We had got to the event village early so we could look at some of the techniques to use and put into practise when it was our turn. Sometimes it really does show how easy the pros make it look.
I had a nasty fall off Sabertooth (lots of monkey bars going up and down) and landed on one of the scaffolding platforms which made me more cautious on the rest of the obstacles, but I wasn't going to let it stop me.
By the time we got to the big wall at the finish we were both so pleased to knowing the big shiny medal was waiting for us on the other side, as we both ran cheering across the finish line with a huge sense of achievement.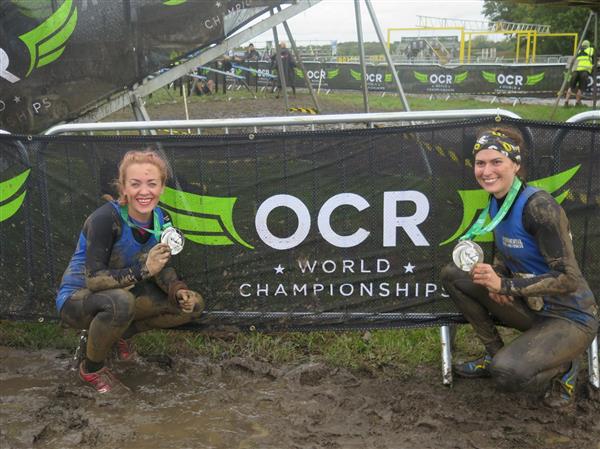 Competing at the Obstacle Race World Championships was an amazing experience and I'd recommend anybody puts themselves out there and gets out of their comfort zone a little bit. For me I can take away the strength and conditioning I've been doing has paid off, I need to work on the technical aspect on some of the trickier obstacles and build on my nutrition on race day, I hadn't eaten enough earlier on so was feeling a bit drained towards the end.
Now it's time to plan next year. I have a few goals in mind which I'll fill you in on in the next few months.