An Inspirational Weekend at The London Marathon
As many of you know my Auntie and Uncle were running the London Marathon this year for Children with Cancer UK. They had set themselves a mammoth challenge of raising £8k for them, this was smashed on the day the total had already exceeded £11k which is amazing.
They had put in all the training and hard work building up to The London Marathon and sometimes the plan going a little off track as everyday life, work and families often decided to throw a spanner in the works but come to think of it, whose plan ever goes 100% successfully.
Fiona ran the marathon last year and was determined to beat her time, knowing the weather was on her side this year helped too. As they went into Sunday morning nice and confident, their last long run went smoothly and at a good pace.
We all arrived to spectate and had spread ourselves over the course with snacks, sweets and drinks to keep them going. The atmosphere was amazing and for me it was so good seeing it from a spectator's point of view as I'm usually the one racing (even if it isn't a marathon).
We managed to see them at mile 13 and 22, which was fantastic. Giving that extra cheer and energy boost at the times they needed it.
When we saw them at the end in the meeting points the relief and emotion on the faces was obvious, but the cheesy grins and excitement to tell us all about it took over.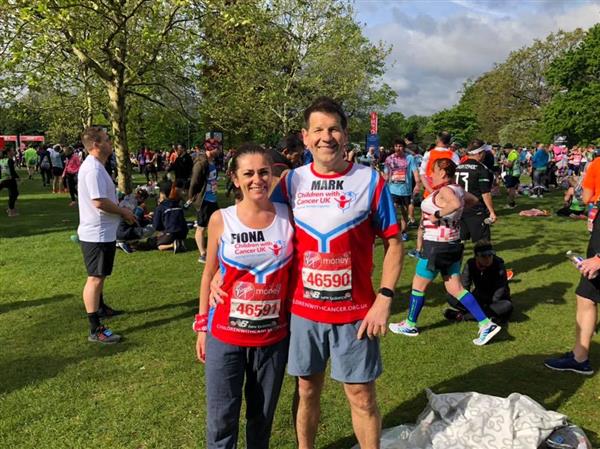 Here's a little snippet of what they had to say about taking part in The London Marathon this year.
"Phew, it's done!
The support we have received from all our friends and family has been fabulous, thank you. It really has made a difference.
Our support team did an excellent job on the day - covering miles 7, 13, 14.5, 19 ish, 21 and 22. They held extra food and tailwind for us. The London crowds are awesome- cheering, encouraging all the way. There's organised bands, and then just people playing music from their homes or an instrument at the side of the street.
It was certainly a race of 2 halves. We went into the start feeling good and confident we had trained well. Nerves of course!
After 10 miles, I started with knee pain. An old injury flared up. But we ran the first half well, and fairly even splits. By mile 15, it was agony. Tears of frustration and anger. I walked and gave myself a bloody good talking to. Mark was also feeling pain in his foot, but was certainly stronger at this point and he went ahead.
I'm not really sure where we were when we met again! Just before 17 possibly. Mark was starting to feel really thirsty and this soon turned to nausea.
Family cheer points were great. A distraction, a supply of bananas and ibuleve gel for me! The gel truly kept me going again until about mile 23.
We separated around mile 22. Of all our race scenarios, this wasn't one - where we were both struggling.
I had to finish sub 5. I wasn't sure if I was still on track. The Garmin said so, but we had stopped for a loo break and hugs with family so the chip time was always going to be higher.
The 600m to go sign came. That should be enough for a final spurt of energy, but my brain didn't want to think of much apart from the knee - it seemed such a long way.
Tears and the medal - a fabulous feeling of achievement and relief. My left leg went completely and luckily I was caught by a steward and around this point Mark appeared by my side. More tears from me. I was wheelchaired to a physio - who worked miracles and 30 minutes later I could walk! Mark was sat down and given lucozade as he felt rough. He'd definitely hit the wall and wasn't himself at all. Then, the lucozade kicked in and was doing his cheesy jokes with all the volunteers!
A walk to meet our family and lots of hugs and smiles, both of us vowing never to do it again.
If anyone is tempted, and you want a charity place, we can't recommend Children with Cancer enough. The support on so many levels is superb, and the cause needs no explanation.
We are thrilled to have smashed our target."
I'd love to hear your stories if you took part this year, or what plans you have on the horizon for your races.